BUSINESS or PLEASURE
or maybe both?
We know the difference in VIKINGBUS
We have a wide selection of coaches, minibuses and vans/limos.
Our corporate coach hire service is designed to accommodate all businesses. "START the meeting on the coach" is a VIKINGBUS concept for companies that require transportation to a meeting or conference venue. Our team will in collaboration with you deliver your ideal travel experience, taking all your requirements into account.
We can also provide branded vehicles that represent your business or organisation during your journeys.
Travel in a coach between two workplaces in the same company is a service often used by Danish companies. Your employees can work remote – there will be Wifi, tables for work stations, coffee, newspapers etc. onboard of the coach if your company needs it.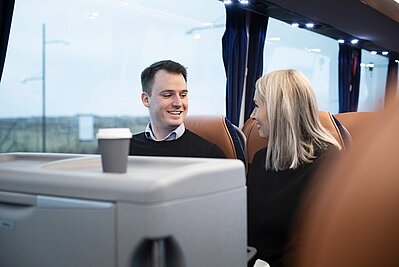 On board the coaches we can:

• Serve a "welcome drink" and a snack.

• Show an introductory video to the hotel, the kick-off, the meeting etc.

• Show presentations on our monitors.

• Introduce the meeting moderators.

• Distribute the preliminary material regarding the stay, brochures etc.

• Introduce the teambuilding events.

• Distribute evaluation material on the return journey.

Furthermore we can collect VIP guests and delegates from the airport, at the hotels or transport the company employees to festive occasions.