COVID-19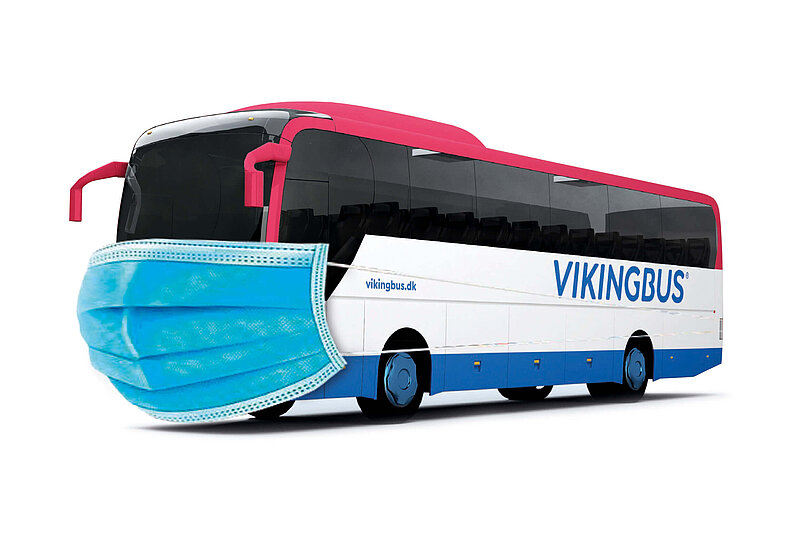 VIKINGBUS' initiative
One of our highest priorities is health, safety and security for our guests, team members and business partners.
COVID-19 has fundamentally changed the way we live and we are therefore adapting our daily operations to the new world.
Requirements for masks or visors
From August 22nd 2020, all passengers and employees must wear either a mask or visor when using our coaches.
The requirement must help to keep the spread of infection down, and the details are described in the Health Authorities executive order on requirements for masks in public transport.*
*Read the health authorities guidelines for the use of masks - Read more.
To help protect the health and safety of our guests, staff and visitors, the use of masks or visor is required in all our coaches and other vehicles.
For children up to 12 years of age and under, or anyone who has difficulty breathing, has reduced level of consciousness or otherwise is unable to use a mask, do not need to wear a mask.

Cleaning protocal of our coaches and vehicles
VIKINGBUS provide extra daily cleaning of all contact surfaces in all coaches and vehicles.
We are taking the following initiatives/measurements :
All coaches are cleaned at least once or twice a day - depending on how many trips made in each coach.

All coaches will have handdisinfection on board for free use.

Focus on contact points/surfaces that are touched by hands; buttons, tables, handles, seat belts, armrests etc.

Flexible cancellation policy
At VIKINGBUS we know that flexibility is important for our guests.
That is why we have flexible options when it comes to bookings so you can book with flexibility and safety.
Cancellation policy:
72 hours before tour start: No charge of service rate

72-24 hours before tour start: 50% of service rate

24-0 hours before tour start: 100% of service rate